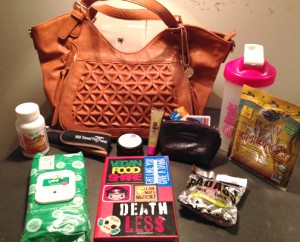 So, what's in your vegan handbag?
I don't know about you, but it seems that since I've gone vegan and come to live this lifestyle, undercover vegan police are popping out of nowhere! I'll pull at lip-gloss out of my purse and hear, "Is that vegan?" or someone will compliment my bag and ask if it's leather. Turns out, my lip-gloss IS vegan but no, my purse is NOT made of leather.
Fortunately, I've found that most people are happy to learn about whatever item I'm using when they see that it doesn't turn my lips purple or that my handbag can be purchased at a major department store. Suddenly, I'm a walking billboard for vegan companies and products, sharing my feedback and review on everything from hair care to protein powders to water bottles.
I'm no expert but I do have some favorites; things that I carry in my purse with me at all times. There's on ongoing joke that my handbags are mini suitcases because I carry a LOT. For someone who is out of the house and always on the go, it's important to be prepared so I need a big bag to hold it all. Let's start with that…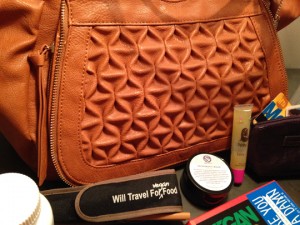 I'm in love with this Big Buddha handbag for the fall. It's a beautiful camel with gold accents. The beautiful details hide the multitude of compartments and pockets inside; it's the perfect hobo bag to fit a lot! Another reason I love Big Buddha bags is because they're sold at Macy's. Ideally, we'd all be shopping at independent retailers and supporting local businesses but sometimes that's just not accessible for everyone, all the time. The other good thing about Macy's is that when people ask where it's from, they're excited to know that they can go get it too. They're not as likely to go out of their way and make this purchase but if it's a store they already go to, then they're more likely to pick this vegan bag over another.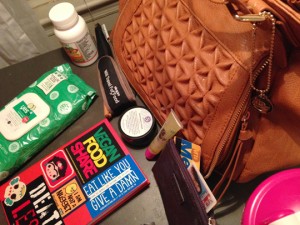 Well, it's beautiful but why the heck is it so heavy!? Let's look inside…
My preferred multivitamin, I take one a day! They're affordable, have no weird after taste and have everything I need!
I usually go to the gym right after work, which means I have on makeup. By the time I put my hair up, wash my face, dry it off, make sure I don't look like Ke$ha (my mascara isn't waterproof), I've wasted 5+ minutes when I only wanted to be at the gym for 45mins – including changing and working out! These wipes are easy, fast and refreshing. They're also really soft and thick so it easily takes off foundation, mascara, eyeshadow, etc. 1-2-3 and I'm out of the locker room and ready to tackle those weights!
Although this set is no longer available, the original makers, To-Go Ware still sell it on their side, along with other awesome reusable items. This one always gets me some looks but considering I so infrequently eat at home, I'm often grabbing plastic utensils. One day, I realized I was going through about 4 spoons and 3 forks a DAY. That's a lot of plastic that is generally not thrown in the recycling bin. This set is small, easy to wash and cute to boot!
Oh, Soapwalla, how did I ever live so long without you? I'm a sweater. A bad, bad, bad sweater. Top that with some heavy lifting, running and hot yoga and well…you get the idea! Deodorants are full of all kinds of crazy ingredients. Soapwalla is an all vegan, mostly organic skincare line out of Brooklyn. Now, because it comes in a jar, you have to apply it with your finger which may seem karaaaayzaaaay at first but, I promise, it's really not that serious! I was pleasantly surprised by how long this little jar lasts! You don't need much for it to be effective. If you can, try to find where they're sold because shipping can be pricey – or, what I do, is just order 3-4 at a time.
Journal
I still believe in hand writing notes and letters. As a poet, I still handwrite all of my poetry, too, so having paper on me is a necessity. I used to swear by Moleskine, but now I find any old journal that's not leather and slap some awesome Vegan Food Share and Herbivore Clothing stickers!
These green little cookies are DELISH! Packed with organic, nutrient rich ingredients including spirulina (which gives them that green color!) – these cookies are great for a pre or post workout snack. Just be aware, one cookie is actually TWO servings!
Because I'm always on the go, I usually carry an extra serving of protein or meal replacement with me. It's easy to find juices and smoothies but the add-ins and finding vegan ones can be tough so I like to carry my own. Vega also carries individual packets of their delicious protein powders. It's great for post workout or if you're feeling extra hungry – add a little ice, water and you have a low cal, low carb, high protein snack!
At any given time, I'll have about four different chapsticks and lip glosses one me. I figure, if you can only use two things – mascara and lipgloss would be the perfect simple look. I'm completely obsessed with this gloss! It's GF, vegan, bee-free, and delicious and shiny and not sticky aaaand I mean, what else could you need? When I whip this out to apply it, gets a lot of attention and people smell it and see the high gloss finish and ask a lot of questions! This will draw all the right attention and keep your lips moisturized.
I have a bigger purse full of cards and receipts, coupons, etc but this little soft supple vegan leather coin purse from Namaste is perfect for when I need something to just carry an ID, some cash, metro card and it'll fit a chapstick with a key, too. They come in beautiful, rich colors and are super affordable.
Blender Bottle
This is how I mix up my protein! They're practical, easy to clean, come in a million colors, and do a great job of shaking up all that powder! They're also BPA and Phthalate free which is a huge plus.
Of course, this doesn't include the 1,002 hair ties or pens at the bottom of my purse or my makeup bag (that's a whole other blog!) but these are some vegan basics that I couldn't do without on a daily basis!
So, what's in
YOUR
vegan handbag?
var addthis_config = {"data_track_clickback":false,"data_track_addressbar":false,"data_track_textcopy":false,"ui_atversion":"300"}; var addthis_product = 'wpp-3.5.6';