Get ready for some MAJOR gushing.  I don't think I have ever gushed this much while writing a review.
Let me start by saying that I have gotten extremely picky about doing reviews.  Way back when I would try any and every vegan product I could get my hands on, but the novelty of that has worn off.
In comes tieks by Gavrieli.  Last week I was contacted by a rep from tieks about the possibility of testing out their vegan ballet flat to see if I would like to write a review.  Being the ballet flat kinda girl that I am, I can't quite figure out how I had never heard of tieks vegan ballet flat collection until last week.  I pulled up their website and did some poking around.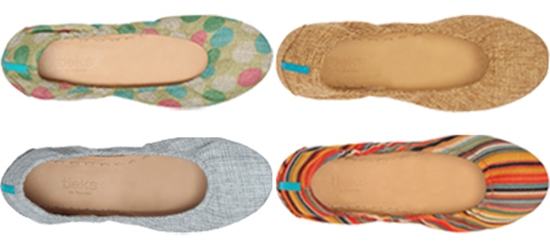 Needless to say, when you see that a product has made it on to Oprah's O List, you can't help but pay attention.  I also watched their video about the making of tieks and their design philosphy, etc. and really liked what I saw.
I decided to give it a go and can safely say that I am a HUGE FAN.  I received my pair of tieks (I opted for the Brent Wood) the day after I placed my order (in the spirit of full-disclosure I received them gratis) and they arrived in the most appealing box topped with a gorgeous sparkly flower.  On a side note, I plan on re-purposing the flower as a hair clip for my daughter since it is too pretty to simply set aside.
The true test of any shoe for me is comfort.  My tieks have been uber comfortable since the first time I put them on.  There is absolutely no need to "break-in" these shoes.  I have literally worn them every day since receiving them and have ZERO blisters to show for it.  I mentioned to my husband that I feel like I have been walking around in my slippers.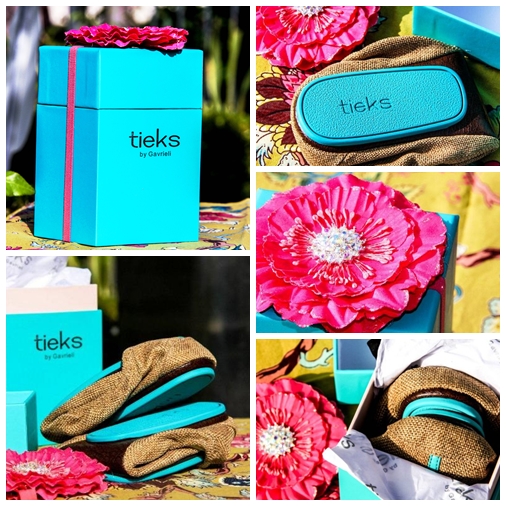 tieks has thought of everything.  The ballet flats fold-up nice and compact and they come with a carrying case, a teeny tiny bag that unfolds into the size of a purse, and pant clips.  Here is their thinking…you go out for a night on the town in your gorgeous sky-high heels, and by the end of the night your feet are KILLING you (we have all been there)…you take your folded-up tieks out of your clutch, remove your heels and put the ballet flats on, open-up the compact bag they sent you, place your heels and clutch in them, and use the pant clips to shorten your previously heel-length trousers.  Brilliant!
Please note that all other tieks are NOT vegan…just the 4 prints…for now.